RegionPyeongchang-gun Gangwon-do
Duration2 DAYS/1 NIGHT
【 Photo: Daegwallyeong Sheep Farm 】
OVERVIEW
Gangwon-do is known as being the part of Korea with the cleanest environment, with fresh air and a thriving ecosystem. The cities of Pyeongchang and Jeongseon receive many tourists every year, looking for a pure environment in which to spend their vacation time. Pyeongchang, the host of the 2018 Winter Olympic Games, offers resorts galore where one can enjoy a variety of winter sports as well as natural sites such as Odaesan National Park and Daegwallyeong Sheep Farm, which prove to be beautiful year round. These days, the nearby city of Jeongseon, known as the "City of Arirang" (Arirang is the representative Korean folk song), has also popped up on the vacation radar due to it being used as a filming site of the hit drama "Descendents of the Sun (2016)." Provided below is a two-day itinerary to discover more about the individual attractions these cities offer.
Tip) Transportation in Pyeongchang & Jeongseon
The public transportation in Pyeongchang and Jeongseon is not as well-developed as larger cities so traveling via bus will be quite inconvenient. We recommend renting a car in Seoul before starting out on your journey. It takes around 2 hours to drive from Seoul to Pyeongchang.
* Related page
Rental Cars
Day 1
19:00 AMTravel to Pyeongchang211:00 AMLee Hyo-seok Culture Village & Lee Hyo-seok Memorial Hall31:00 PMAlpensia Resort43:00 PMDaegwallyeong Sheep Farm
55:00 PMWoljeongsa Temple67:00 PMTravel to Jeongseon
【 Photo: Lee Hyo-seok Culture Village blooming
with buckwheat 】
【 Photo: Food made with buckwheat 】
Bongpyeong-myeon in Pyeongchang is famous for buckwheat, which grows abundantly here. It is especially beautiful in early autumn, when the fields surrounding the area of Lee Hyo-seok Culture Village are blanketed with tiny, white buckwheat blossoms. The village was named after Korean author Lee Hyo-seok, who grew up here, and was the setting of his famous novel "When Buckwheat Flowers Bloom." To celebrate the author and his literary work, the Hyoseok Cultural  Festival is held here every year in September. The festival offers a variety of fun events, including a literary program, walking through the fields of buckwheat, making foods with buckwheat, dying ones fingernails with flowers, playing traditional games and more.
When visiting Bongpyeong, you definitely have to try buckwheat foods! From memil-guksu (cold buckwheat noodles) to buchimgae (fried pancake) and jeonbyeong (crepe), the number of delicious foods is astounding. In order to find the largest variety, head to Hyo-seok Culture Village Buckwheat Food Street, where dozens of buckwheat restaurants are lined up, waiting to serve you.
【 Photo: Statue of Lee Hyo-seok 】

【 Photo: Birthplace of Lee Hyo-seok 】
If you're interested in Korean culture, then visiting the Lee Hyo-seok Memorial Hall is a must. The hall is designed to show the timeline of Lee Hyo-seok's literary life. The grounds of the memorial hall are popular for the beautiful walking paths. To enjoy the village to its fullest, we recommend taking a leisurely stroll through the town, starting from the memorial hall and continuing until you reach the Birthplace of Lee Hyo-seok.
Address: 73-25, Hyoseokmunhak-gil, Changdong-ri, Bongpyeong-myeon, Pyeongchang-gun, Gangwon-do (Lee Hyo-seok Memorial Hall)
Operating hours: May-September 09:00-18:30 / October-April 09:00-17:30 (Closed Mondays, Jan. 1 & the day of Seollal (Lunar New Year) and Chuseok (Korean Thanksgiving))
Admission: Adults 2,000 won / Teenagers 1,500 won / Children 1,000 won
Website: www.hyoseok.org (Korean only)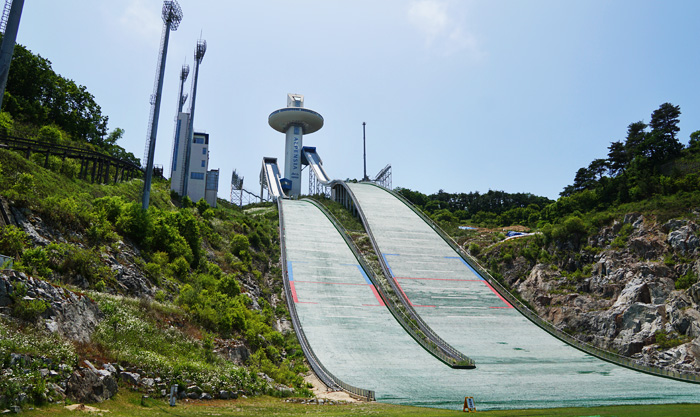 【 Photo: Ski jump ramp 】
【 Photo: View from the top of the ski jump 】
【 Photo: View from the observation deck 】
Set among the beautiful mountains of Daegwallyeong, Alpensia Resort is the venue of the opening ceremony for the 2018 PyeongChang Winter Olympics. At the core of winter sports in Korea, the resort offers a ski jump ramp in addition to standard ski slopes and other sports facilities, as well as a golf course, convention center and a four-season water park, Alpensia Ocean 700.
The Ski Jump Tower in particular has served as a filming site for both the movie "Take Off (2009)" and the popular variety show "Infinity Challenge." The top of the tower features an observation deck accessible to all visitors via a monorail. In addition to the general admission, Alpensia Resort is also offering a special admission to the tower from now until the 2018 Winter Olympics. For just a bit more, you can experience the thrill felt by ski jumpers by standing at the start of the ramp and looking down from the dizzying height.
Yet another thrilling attraction of Alpensia Resort is the Alpine Coaster, a down-hill rollercoaster reaching speeds of up to 40km per hour. Hop on to see the beautiful surroundings of Alpensia fly past as your race down the mountain!
Address: 325, Solbong-ro, Daegwallyeong-myeon, Pyeongchang-gun, Gangwon-do
Ski Jump Tower (Observation Deck)
Operating hours: 09:25 (First car up) – 17:55 (Last car down)
Regular admission: Adults 2,000 won / Teenagers 1,500 won / Children 1,000 won
Special admission: Adults 6,000 won / Teenagers 4,000 won / Children 3,000 won
Alpensia Coaster
Operating hours: 10:00-18:00 (* Hours subject to change based on date and season)
Fare: Adults & Teenagers 20,000 won / Children 17,000 won / 2-person tandem 32,000 won
(Summer peak-season: Adults & Teenagers 22,000 won / Children 19,000 won / 2-person tandem 36,000 won)
Website: www.alpensiaresort.co.kr (Korean, English, Japanese, Chinese)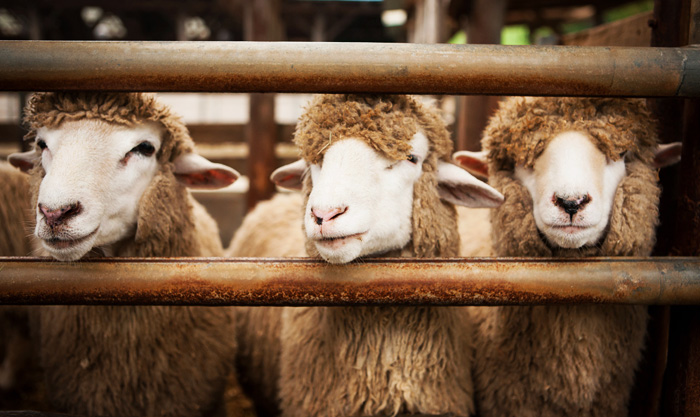 【 Photo: Sheep waiting to be fed 】
The vast field of Daegwallyeong dotted with sheep slowly munching on grass is an attractive site that seems to be straight out of the past. The field is encircled by a 1.2km walking trail which will take approximately 40 minutes to complete. However, most people spend at least an hour here, feeding hay to the sheep by hand and taking photos here and there among the beautiful scenery. In particular, a singular cabin set in the middle of the field is the focal point of many tourists' photos. The cabin was a filming set for the movie "A Man Who Went to Mars (2003)." Before leaving, don't forget to walk up the hill of the sheep farm; the view from the peak unfolds to include the coastal city of Gangneung and the East Sea beyond.
Address: 483-32, Daegwallyeongmaru-gil, Daegwallyeong-myeon, Pyeongchang-gun, Gangwon-do
Operating hours: May-August 09:00-18:30 / April, September 09:00-18:00 / March, October 09:00-17:30 / November-February 09:00-17:00
Admission: Adults 4,000 won / Children 3,500 won
Website: www.yangtte.co.kr (Korean only)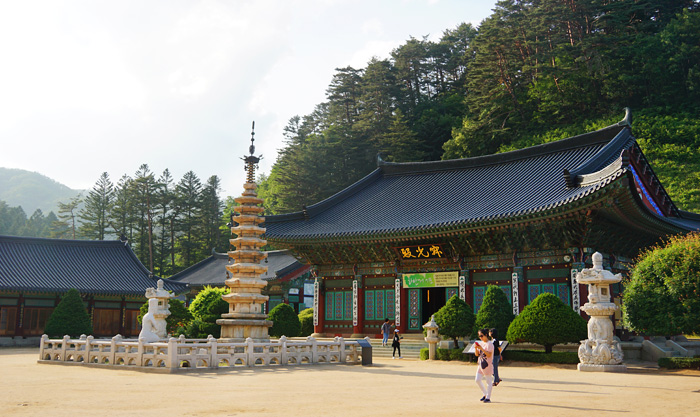 【 Photo: Woljeongsa Temple 】
Woljeongsa Temple is a representative cultural relic of Pyeongchang, known to have been built during the Silla Dynasty (57 BC – AD 935), making it over one thousand years old. The current buildings were rebuilt after the originals were destroyed during the Korean War. Despite their more recent renewal, the spirit and dignity of Woljeongsa Temple can be felt in harmony with the nature of Odaesan Mountain.
In the middle of the vast courtyard stands a treasured cultural heritage of Woljeongsa Temple, an octagonal nine-story stone pagoda built during the Goryeo Dynasty (918-1392). Just beyond the pagoda is a stone seated Bodhisattva kneeling with hands held together. To see more cultural heritages, be sure to visit Woljeongsa Museumwhere dozens of national treasures related to Buddhism are on display.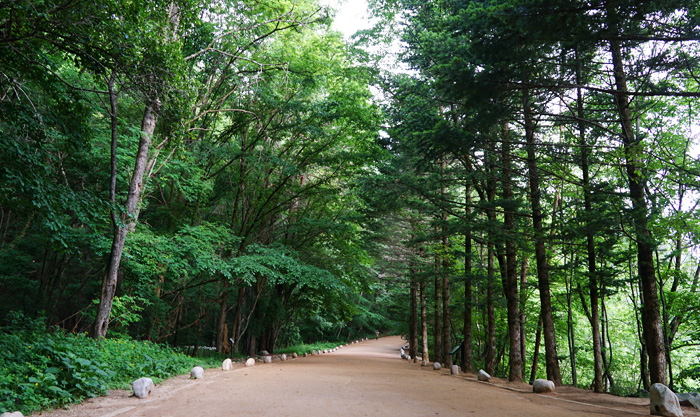 【 Photo: Fir tree forest trail at Woljeongsa Temple 】
To reach Woljeongsa Temple, you should walk about 1km from Geumganggyo Bridge through a fir tree forest. The forest is populated with over 1,800 trees with an average age of over 80 years. The sharp scent of pine needles in your nose and the soft earth beneath your feet will surely lift your spirits.
A 20-minute drive from Woljeongsa Temple is the venue of the annual Pyeongchang Trout Festival held in winter. Visitors of all ages will have fun ice fishing for trout, riding on sleds and more exciting activities. If you're visiting Pyeongchang in winter, be sure to stop by the festival grounds!
Address: 374-8, Odaesan-ro, Jinbu-myeon, Pyeongchang-gun, Gangwon-do
Operating hours (Woljeongsa Museum): April-October 09:30-18:00 / November-March 09:30-17:00 (Closed Tuesdays, Jan. 1, Seollal (Lunar New Year) and Chuseok (Korean Thanksgiving))
Admission: Adults 3,000 won / Teenagers 1,500 won / Children 500 won
Website: woljeongsa.org (Korean, English)
Day 2
19:00 AMByeongbangchi Skywalk210:00 AMArarichon312:00 PMLunch41:00 PMHwaamdonggul Cave
54:00 PMSamtan Art Mine66:00 PMHigh1 Resort
【 Photo: Byeongbangchi Skywalk 】

【 Photo: Korean peninsula-shaped outcropping 】
Named for the shape of the Korean peninsula in miniature form, Byeongbangchi Skywalk offers a grand view of the stunning surroundings from 583 meters in the air. With a glass floor, you can see the hill falling away below your feet. Despite the thrill of being held aloft above nothing, there is no need to fear falling through, as extremely thick glass is used and supported thoroughly. In order to protect the glass from scratches, you must first put on cloth overshoes before entering.
If simply standing over the heights isn't enough of a thrill for you, head up the hill to the zipwire! Stretching approximately 330 meters and reaching a speed of 100km per hour, the zipwire offers the experience of flying. Even better, the zipwire can accommodate group runs of up to four people!
Address: 225, Byeongbangchi-gil, Jeongseon-eup, Jeongseon-gun, Gangwon-do
Skywalk
Operating hours: 09:00-18:00
Fare: Adults 2,000 won / Children 1,000 won
Zipwire
Operating hours: 09:00-18:00
Fare: 40,000 won
10:00 AM – Ararichon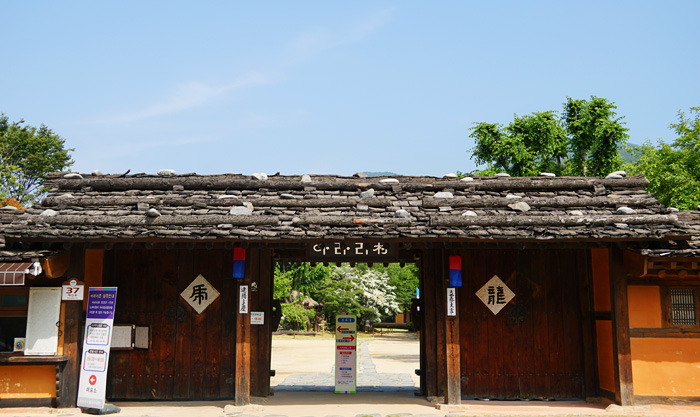 【 Photo: Ararichon entrance 】
【 Photo: Statue of daily life in the past 】

【 Photo: Jeongseon Arirang gift certificates 】
Ararichon offers a glimpse into the past, with tile-roofed houses, traditional slate-roofed houses from Jeongseon, and five other traditional house styles, as well as other hard-to-see items and scenes from life in the Joseon Dynasty. The speakers placed inconspicuously throughout Ararichon play the traditional folk song of the region, "Jeongseon Arirang." The song may be unfamiliar, but you will soon find yourself humming along with the melody. While here, be sure to take advantage of the many experiences available, such as making pottery.
When paying admission at the entrance, you will give 3,000 won in exchange for Jeongseon Arirang gift certificates worth 3,000 won. These certificates can be used inside Ararichon to purchase drinks or snacks at the café, or participate in the experience programs, as well as be used like cash at accommodations, restaurants, the traditional market and more throughout Jeongseon.
Address: 37, Aesan-ro, Jeongseon-eup, Jeongseon-gun, Gangwon-do
Operating hours: 09:00-18:00
Admission: 3,000 won (Receive Jeongseon Arirang gift certificates worth 3,000 won in exchange)
12:00 PM – Lunch!
【 Photo: Traditional food of Jeongseon 】

【 Photo: Gondeure namul-bap 】
There are many restaurants gathered by the entrance to Hwaamdonggul Cave, with most selling gondeure namul-bap, a famous food of Jeongseon made of mixing wild thistle leaves and seasoning with rice. The wild thistles uses in the meal grow plentiful on the mountains, and provide a savory flavor when mixed in with the white rice. To round out the meal, order a side of gamja-jeon (potato pancake) or gamja-tteok (potato rice cake), also famous foods in Gangwon-do.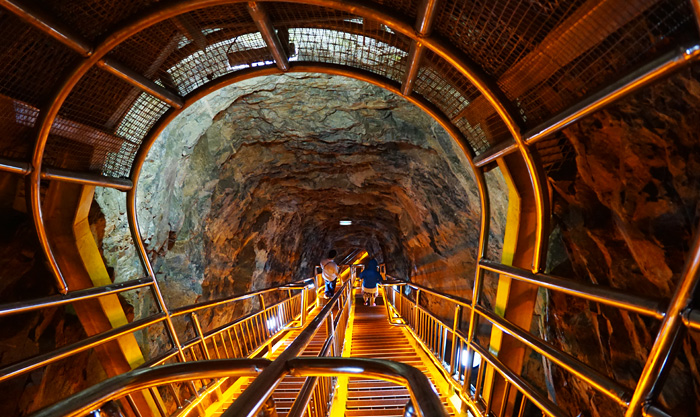 【 Photo: Steep descent into Hwaamdonggul Cave via stairs 】
Hwaamdonggul Cave originally operated as a gold mine from 1922 until 1945, when natural stalactites were discovered after digging through a wall in search of more gold. The cave is now operated as a themed cave "where gold and nature meet." The entire course is 1,803 meters divided into five sections with unique themes, and takes around one and a half hours to complete. The entrance and exit are separate, so after entering the cave down the steep stairs, the easy walking path will guide you to new scenes around every corner.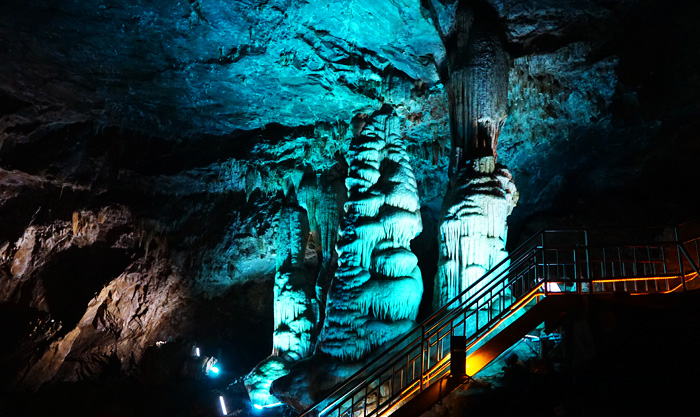 【 Photo: Natural stalagmites inside Hwaamdonggul Cave 】
【 Photo: Uniquely decorated cave interior 】
Among the cave's five themed areas, the History Room shows the cave as it was when used as a gold mine. 365 Steps Along the Gold Vein offers a mysterious feeling as you transition from the straight-cut mine trail into the naturally winding path through the cave. Fantasy Land explains the process of gold mining and the value of caves through cartoon characters in a way easy for children to understanding. Gold World displays both a 185km gold bar, and videos about this most precious metal. The last section of the cave is dedicated to "Mysterious Mother Nature" and features fantastic cave formations from flowstone to stalactites, stalagmites and stone pillars formed from the two meeting.
The cave entrance is about a 20-minute walk from the parking lot. If the walk uphill is too much, you can ride the monorail up to arrive more comfortably and easily.
Address: Hwaam-ri, Hwaam-myeon, Jeongseon-gun, Gangwon-do
Operating hours: 09:00-17:00
Admission
Hwaamdonggul Cave – Adults 5,000 won / Teenagers 3,500 won / Children 2,000 won
Monorail – Adults 3,000 won / Teenagers 2,000 won / Children 1,500 won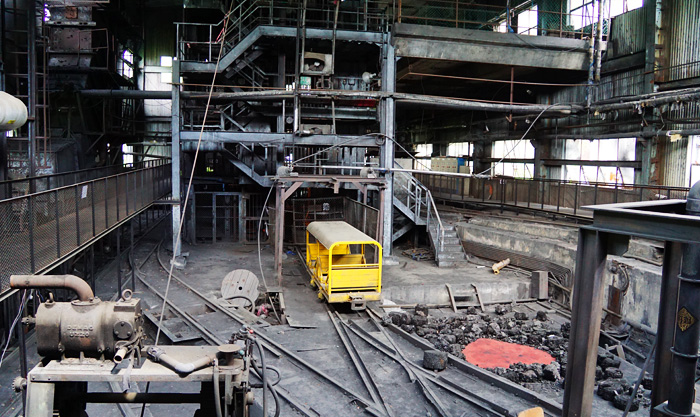 【 Photo: Scenes at Samtan Art Mine 】
Samtan Art Mine is a cultural art space created at the site of an abandoned mine. The entrance starts at the lounge on the fourth floor and the viewing path leads down one floor at a time. The third floor serves as a museum, displaying mining materials and bringing history to life. Also located on the third floor is CAM, a high-level modern art museum. Continuing to the second floor, you can see a collection of over 100,000 pieces of art from around the world in a storage area and shower room used by the miners, left as is and now used as a gallery space. The gallery has gained interest after its appearance in the hit drama "Descendents of the Sun (2016)."
After exiting the art museum, head to the Rail by Museum building next door where the switchyard is located. The switchyard, with its conveyer, rails and other industrial materials, creates a unique atmosphere, making it popular has a filming site. It has been featured in the drama "Phantom (2012)," movie "The Spy: Undercover Operation (2013)" and variety program "Running Man."
Address: 1445-44, Hambaeksan-ro, Gohan-ri, Gohan-eup, Jeongseon-gun, Gangwon-do
Operating hours: Summer 09:00-18:00 / Winter 10:00-17:00 (Closed Mondays)
Admission: Adults 13,000 won / Teenagers 12,000 won / Children 11,000 won
Website: samtanartmine.com (Korean only)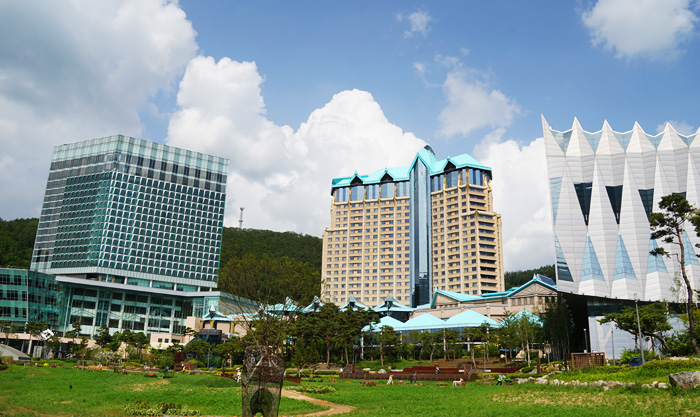 【 Photo: High1 Resort landscape 】
【 Photo: Photo zone before the casino 】

【 Photo: Unamjeong 】
High1 Resort offers a casino, ski slopes, golf course and other entertainment facilities, drawing in tourists throughout all four seasons. The biggest attraction, both in size and interest, is Kangwon Land Casino; it is the largest casino in Korea, and is open to both Koreans and international visitors. Another popular facility is the tourist gondola, showing views of the mountain covered in wildflowers from spring to fall.
If you enjoy watching musicals and other live performances, be sure to visit Casa Cinema. Here you can enjoy free performances that change in theme with the season. Another spot to visit within the resort is Unamjeong, built as a film set for the drama "Gourmet (2007)" and now serving as a first-class Han-jeongsik (Korean Table d'hote) restaurant. Don't worry if you arrive late at night; every night the outdoor garden is bright with the lights of a laser show.
Address: 265, High1-gil, Sabuk-eup, Jeongseon-gun, Gangwon-do
Kangwon Land Casino
Operating hours: 10:00-06:00 (next day)
Admission: 9,000 won (Cash only)
Tourist Gondola
Operating hours: 09:00-17:00 (* Hours subject to change based on date and season)
Fare: Adults & Teenagers 15,000 won / Children 12,000 won
Casa Cinema
Schedule: Twice daily, 16:30 & 19:30 (Closed Mondays)
Unamjeong
Operating hours: Lunch 12:00-15:00 / Dinner 18:00-20:00 (Closed Mondays)
Website: www.high1.com (Korean, English, Japanese, Chinese)