If you like killing two birds with one stone, we recommend you to head out to Sinsa-dong and Hapjeong-dong to do some sightseeing and relaxing in one place! These so called "hip places" are two of the hottest neighborhoods in town, loved by both locals and international visitors, as they represent the latest trends in fashion and dining.
Representing both north and south sides of the Hangang River (Gangnam literally means "south of the river") – Sinsa-dong in the south and Hapjeong-dong in the north – the two were not originally intended to be fashion streets. However, they slowly earned their reputations thanks to continual innovative designs and catchy urban concepts. They transformed old, worn-down factory buildings into cool, vintage shops and gallery-like spaces, causing the area to be re-branded.
This characteristic also appeals to top celebrities, who frequent Sinsa-dong and Hapjeong-dong to stay on top of recent fads.
Style yourself up at Sinsa-dong, the celebrity playground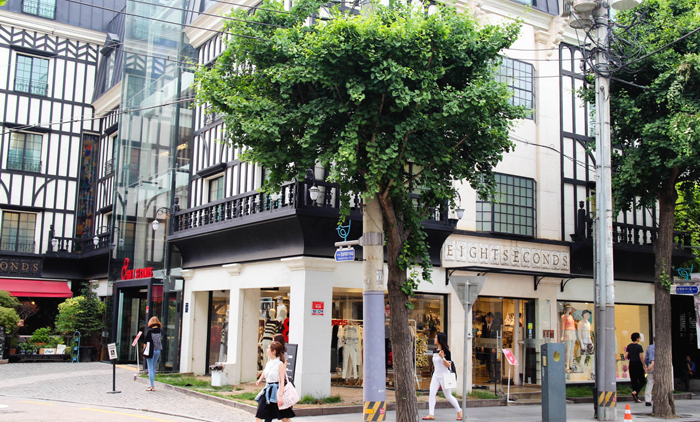 Garosu-gil, an upscale street of Sinsa-dong in the Gangnam area, literally means "tree-lined street." As its name implies, the gingko trees that line the street turn golden yellow every fall, and that's on top of the thousands of visitors walking the street every day. In addition to its natural side, it is particularly known for dozens of charmingly decorated coffee shops and designer stores.
Previously, the area was occupied by individual artists and designers, bringing much of the eccentric flair which has attracted large companies to test their products.
As a result, the former, quieter atmosphere has retreated to Serosu-gil, a new area formed a few streets back from the main drag of Garosu-gil. Interestingly, Serosu-gil Street is now more heavily visited by shoppers and celebs who like to hunt for unique items.

In addition to shopping, various restaurants, drug stores, beauty shops and art exhibitors also find their way in here in order to better meet customers' standards and tastes, even adjusting their marketing strategies based on feedback received from Garosu-gil and Serosu-gil shoppers.
The most popular area in Garosu-gil is the stretch from Sinsa Station (Subway Line 3) to Hyeondae High School.
More often than not, Serosu-gil offers items that are handmade and particularly unique. Trendy buyers and tourists who like to browse through the latest items come here to get a good bargain.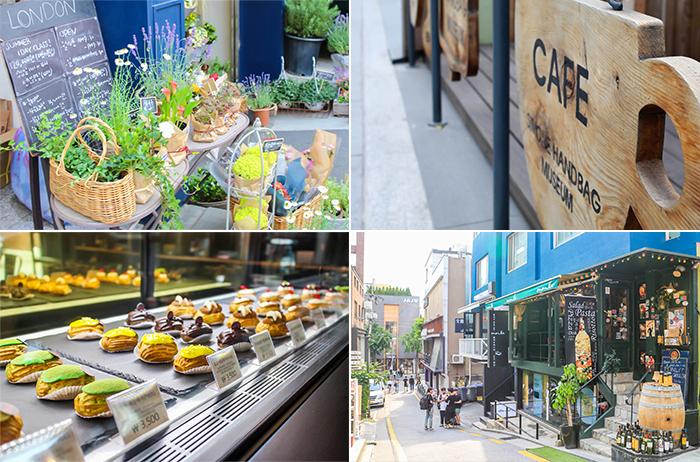 Serosu-gil Street houses establishments that serve exceptional dishes as well, all worth your time. The road is narrower than Garosu-gil, hence the name Serosu-gil (se meaning "narrow" or "tight"), and thus exploring this cozy area is not only fun but also good for getting a filling meal. Some say that the name came from the word meaning "complex," as the roads criss-cross north and south as well as east and west. Despite this, there are plenty of road signs to keep you from getting lost.
How to get to Garosu-gil & Serosu-gil
Sinsa Station (Seoul Subway Line 3), Exit 8
Walk straight from the exit (east) until you come to the third side street, about 250 m from the station.
This is the main street of Garosu-gil.
Serosu-gil is located in back alleys of Garosu-gil.
Take a breather between your shopping at Hapjeong's Café Street!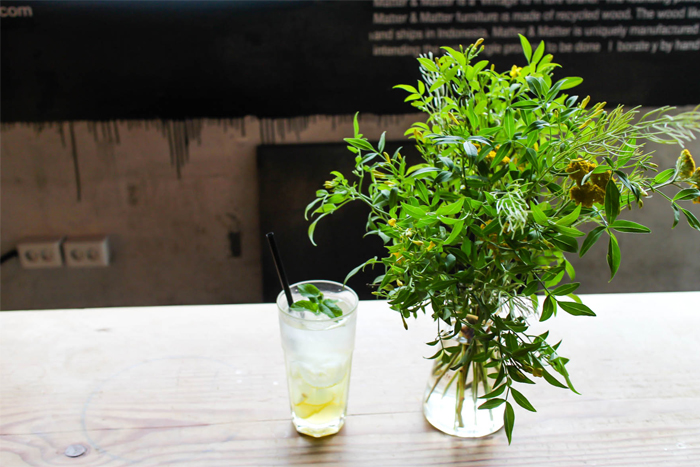 The area of Hapjeong-dong is a perfect place to find some trendy respite amidst the busy urban environment of Seoul. Just west of Hapjeong Station is a neighborhood lined with coffee shops that have unique and interesting designs and great coffee. On top of the many coffee shops among these streets, you can also find quaint, modern restaurants, both fast food and regular dining, as well as cultural and art spaces for visiting enthusiasts.
Rich with individual tastes and styles, the streets Hapjeong-dong are laden with dining establishments, bars, Spanish-style wine bars, European and Japanese bakeries, and vintage coffee shops. As you peruse through the streets and see all the shops, you'll really be able to feel the vibe and atmosphere created by the citizens and entrepreneurs of the neighborhood.
Attractions near Hapjeong-dong

Jeoldusan Martyrs' Shrine, located in the vicinity of Hapjeong Station, literally means "headless mountain." During the later years of the Joseon Dynasty, about 170 Catholics, who had been persecuted in Korea, were beheaded at this place for their Catholic beliefs, hence the name. Currently, the site is home to the Jeoldusan Church and the Catholic Memorial Hall. The site is located about 300 meters southwest of exit 7 at Hapjeong Station.
Mecanatpolis Mall, directly connected to Hapjeong Station, contains popular fashion brands, restaurants, a performance stage and a movie theater. With three levels spanning about 400 meters each, it is a great place to do some shopping all while getting in a light walk. The unique and modern design of the structure makes it easy to enjoy the natural environment and get a much-needed break from the busy city.
Also, given that it's an outdoor mall, you can see the sky from almost wherever you are in the mall, and the central square and Mecena Garden are great places to meet up with friends or to let one's children play. There's even a small park just outside of the building, so you can get some delicious brunch then let it settle in a nice, natural setting. The stores at Mecenatpolis include Gap, Uniqlo, a trendy spa, as well as Korea's Laura Ashley flagship store, a brand known for home styling and fashion.
YG Entertainment Headquarters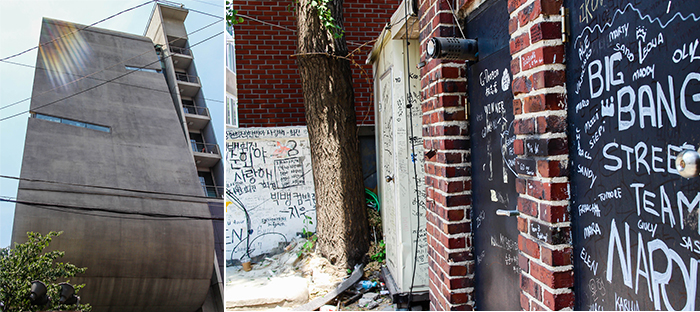 The area of Hapjeong-dong is also home to large and small entertainment companies. One of the office buildings for YG Entertainment, which is known for idol group BigBang and actor Cha Seung-won, is located here, attracting a lot of young visitors wanting to see where their favorite stars work. If you come straight out of exit 8 at Hapjeong Station, you can find the YG Entertainment building about 400 meters west of the station, near the river.
How to get to Hapjeong-dong Café Street
Hapjeong Station (Seoul Subway Line 2), Exit 4, 5, or 6
☞ 1330 Travel Hotline: +82-2-1330 (Korean, English, Japanese, Chinese)