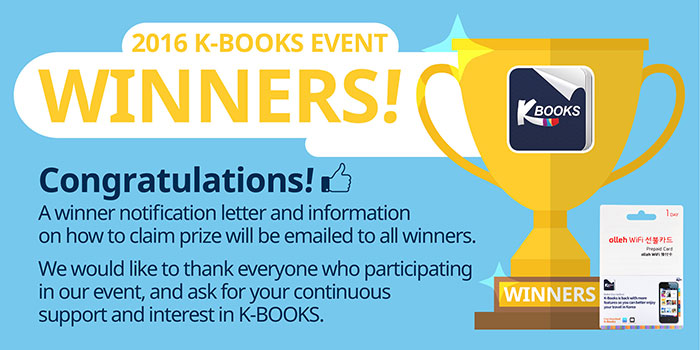 Congratulations to all the winners of the 2016 K-BOOKS event! Korea Tourism Organization would like to thank everyone for participating in our event, and ask for your continuous support and interest in K-BOOKS.
[Notices]
Winners will be personally contacted through the email address provided.
KTO is not responsible for any delivery failure of the gift (Free KT Wi-Fi 1-day coupon) in the case of an incorrectly submitted address.
Contact ktobook@knto.or.kr for any inquiries related to the event.
To protect your personal information, the last 2 characters of the email address were replaced with "**".
[Winners Information]
139186995**@139.com / 682671**@qq.com
a1n6**@gmail.com / aguirr**@uabc.edu.mx
aijooch**@yahoo.com / aishahno**@gmail.com
aleefamirul**@gmail.com / ami_blues**@hotmail.com
amnahmalihahmarzu**@gmail.com / amnahmalihahmarzu**@gmail.com
analella_int**@yahoo.com / angelalamkaka**@gmail.com
applejung06**@gmail.com / bayruix**@hotmail.com
celetut**@yahoo.com.sg / celia951**@gmail.com
changradia**@me.com / charissa.t**@gmail.com
chunyu8407**@gmail.com / cindy.p**@rhbgroup.com
coline**@hotmail.com / coline**@hotmail.com
crowl**@lakihome.com / dawnchristylrou.villan.wat20**@gmail.com
divue**@gmail.com / djunani_**@yahoo.com
dmvillar**@yahoo.com / dongdongic**@yahoo.com
edjoseph**@rocketmail.com / edjoseph**@rocketmail.com
erelly**@gmail.com / esraaelzeny**@gmail.com
fsp96**@yahoo.ca / gcki**@uci.edu
girlki**@gmail.com / graydar**@hotmail.com
gyingyin**@gmail.com / hansheng_**@hotmail.com
hico89**@gmail.com / huigin**@gmail.com
iamnaz**@gmail.com / iyfpa**@gmail.com
j962**@gmail.com / janiceteo**@gmail.com
jeansingi**@gmail.com / jenna776**@msn.com
jghe**@gmail.com / jgqgqkyoo59**@gmail.com
jt**@yahoo.com / jun716ki**@gmail.com
jz_ta**@sina.com / karenteo**@hotmail.com
kcpoble**@gmail.com / kiefer.l**@gmx.com
kingsze1**@hotmail.com / lehchin**@hotmail.com
lenyamores**@gmail.com / leontif**@hotmail.com
lim941**@gmail.com / lisa-v**@web.de
llmin**@hotmail.com / lmatuga**@gmail.com
lquina**@gmail.com / maine.mendio**@gmail.com
mandybuerger.**@googlemail.com / marai**@yahoo.com
marcuswu**@gmail.com / marutamag**@gmail.com
michellelee27**@gmail.com / mtend**@hotmail.com
mumiech**@gmail.com / mumiech**@gmail.com
natwontbepleas**@gmail.com / ngoc**@uci.edu
nulee**@gmail.com / nurafifanaj**@yahoo.com
olin.hanind**@icloud.com / ooiyingk**@gmail.com
oxana.dud**@gmail.com / pamelasola**@gmail.com
patrick_v**@yahoo.com / pennychen03**@gmail.com
pistachio73**@yahoo.com / playguy13**@yahoo.com.hk
pulpulaan**@gmail.com / radiah.rash**@gmail.com
richelle.alcanta**@yahoo.com / ritachanchan6**@yahoo.com.hk
rixnac**@gmail.com / s11044**@s.eduhk.hk
sallysamsaim**@yahoo.com / salwaelzeny20**@gmail.com
sanchez.leonel**@gmail.com / sbramadhia**@gmail.com
shafarina**@gmail.com / shannont**@hotmail.com
sherlyt**@hotmail.com / sherymiekimm**@gmail.com
sherymiekimm**@gmail.com / shima_mdnaw**@yahoo.com
shinee**@gmail.com / shirley1**@yahoo.com
shiyinglshiyi**@gmail.com / silkygurl91**@ymail.com
soh**@hotmail.com / stellayang1008**@yahoo.com.tw
sushen**@gmail.com / the_momen**@hotmail.com
thespiritrav**@gmail.com / tmy93**@gmail.com
tmy931**@gmail.com / tri.ariyani**@gmail.com
ttnnxe**@yahoo.com.tw / tunga**@yahoo.com.sg
twm7**@gmail.com / vashanatasha**@gmail.com
vela_g**@sina.com / vonex**@yahoo.com.sg
w978028**@gmail.com / waqas.rahm**@gmail.com
wenyi.**@gmail.com / yana**@gmail.com
yanshin20**@gmail.com / yeepei**@hotmail.com
yokepingy**@gmail.com