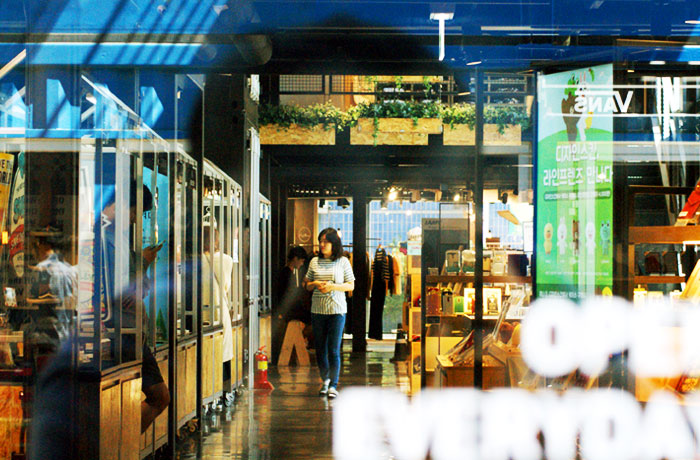 Photo: 'Common Ground' Mall
Seoul has a great number of downtown areas across the city. In particular, university streets or so called 'towns' designed near the schools are full of liveness and energy, owing to the vast number of young people crowding. One good example is the area surrounding Konkuk University Station (Seoul Subway Line 2, 7) located in the east of Seoul, where it has long been serving as a center for commercial activities.
However, the district serves just more than that, also referred as Kondae, and it provides a chance to see for oneself the fast-changing trends of Korea in all sectors, including fashion, beauty, dining, and more. Hop on a trip to Kondae, the rising hot place among youngsters!
Packed with shops full of energetic personality – Common Ground

Photo: Views of Common Ground
Common Ground, an eye-catching large blue building, is Korea's first pop-up container shopping mall. The place is garnering so much attention that the number of visitors exceeded a million just in 100 days since its opening and it has become the new landmark of the Kondae area. Unique and trendy smaller brands, new designers' shops, and editorial shops pack the mall, adding to the enthusiasm of youngsters. In addition, it is the venue of diverse events such as exhibitions and performances, thereby playing its role as a cultural space.

Photo: Shops in Common Ground (left) / Terrace Market (right)
If you get hungry while looking around a myriad of shops there, you can go to the Market Terrace, just a few steps up to the third floor. The terrace interestingly features a collection of famous restaurants from various parts of the city, such as Hongdae, Gyeongnidan-gil Road, and Sinsadong Garosu-gil Road. If you are up for more of lighter versions of foods, you can enjoy some snacks at one of the food trucks found on the Market Ground, where exotic gastronomic performance is also seen!
Dozens of fashion brands in one place – Star City Mall & Rodeo Street

Photo: Star City Mall (left) / Kondae Rodeo Street View (right)
Star City Mall is a multi-shopping complex housing a department store, superstore, movie theater, large-scale bookstore, along with a wide array of fashion brand shops and restaurants. Especially, there are many well-known franchise restaurants inside the complex, so you can find a satisfying dining experience whichever you choose to go. The back street of Common Ground leads to Rodeo Street, which is flanked by various fashion and sports brand shops, as well as restaurants. It's an exceedingly fun experience to scour through alleys after alleys of roadside shops and tasty restaurants.
Star City Mall

☞ Address: 262, Achasan-ro, Gwangjin-gu, Seoul
☞ Website: www.starctmall.com (Korean only)
☞ Directions: Konkuk Univ. Station (Seoul Subway Line 2, 7). The mall is directly connected through underground passage.
☞ Operating hours: 10:00-23:00 (the hour varies by stores)
☞ Address: 200, Achasan-ro, Gwangjin-gu, Seoul
☞ Website: www.common-ground.co.kr (Korean only)
☞ Directions: Konkuk Univ. Station (Seoul Subway Line 2, 7), and Exit 6. Walk for about 3-min.
☞ Operating hours: 11:00-22:00 (Bars & pubs 11:00-02:00)
Street filled with Deliciousness – Kondae Taste Street

Photo: Entrance to Kondae Taste Street (left) / Samgyeopsal (right)
Kondae Taste Street is packed with restaurants serving a vast assortment of foods that are popular in Korea. Dining choices range from all-time favorite Korean dishes, such as samgyeopsal (grilled pork belly) and galbi (grilled beef ribs), to exotic Western cuisine. You can choose among a variety of trendy dessert cafés found here. Moreover, many of the restaurants and bars stay open late into the night, so the street remains illuminated until dawn.
☞ Address: Hwayangdong, Gwangjin-gu, Seoul
☞ Directions: Konkuk Univ. Station (Seoul Subway Line 2, 7), and Exit 2. Walk for about 3-min.
Traditional markets in urban areas – Norunsan Golmok Market & Yeongdonggyo Golmok Market

Photo: Scenes at the Golmok Market
Now it's time for a look around the heartwarming traditional markets hidden in the small alley (golmok means small streets in Korean), instead of the high-end shopping malls. Located about 15 minutes' walking distance from Kondae University Station are Norunsan Golmok Market and Yeongdonggyo Golmok Market, where you can purchase food as well as diverse inexpensive household items.
Savory snacks sold at reasonable prices lure travelers to try them and before you know, you will find yourself feeling full as you try one snack after another. Visitors are advised to take cash as cards are not always accepted.
☞ Address:
Norunsan Golmok Market – 491, Ttukseom-ro, Gwangjin-gu, Seoul
Yeongdonggyo Golmok Market – Behind Norunsan Golmok Market
☞ Directions: Konkuk Univ. Station (Seoul Subway Line 2, 7), and Exit 5. Walk for about 15-min.

Photo: Vista from Ttukseom Hangang Park (left) / Inside view of Jabeolle (right)
About a 15-minute walk or a one station ride on the subway from Konkuk University Station will take you to Ttukseom Hangang Park, which is an ideal place to take in the gorgeous view of the Hangang River. The park serves as a resting place for the citizens of Seoul. On weeknights or weekdays, many visitors flock to the park to enjoy a leisurely picnic. Bicycle rentals are available year round and the park opens an outdoor swimming pool in the summer and an ice skating rink in the winter.
The exquisitely unique structure that stands out even from a distance is a cultural complex called Jabeolle or J-Bug. It has become the symbol of Ttukseom Hangang Park and visitors can enjoy a panoramic view of the Hangang River, which are both a getaway spot and a site of living for Seoulites. The cultural complex also offers a variety of culture and art events free of charge.
☞ Address: 139, Gangbyeonbuk-ro, Gwangjin-gu, Seoul
☞ Directions: Ttukseom Park Station (Seoul Subway Line 7), and Exit 3. Walk for about 5-min (One station away from Konkuk Univ. Station)

Photo: View of Seoul Children's Grand Park (left) / Botanitcal Garden in Children's Grand Park
Children's Grand Park is where you can experience a vast stretch of nature in downtown. Visitors will be amazed to find out about what they can enjoy, free of charge, the park's well-kept botanical garden and zoo, along with its picturesque scenery. The botanical garden features greenhouse plants and wild flowers, while the zoo is home to more than 4,100 animals of 95 different species, including elephants, tigers, and meerkats. The rides within the park are available at additional costs. Seoul Children's Museum is also a must-visit attraction for visitors with children as it offers a range of hands-on activities and fun educational programs.
☞ Address: 216, Neungdong-ro, Gwangjin-gu, Seoul
☞ Website: www.sisul.or.kr (Korean, English)
☞ Directions: Children's Grand Park Station (Seoul Subway Line 7), and Exit 1. Walk for about 4-min.
☞ Operating hours: 05:00-22:00
* Zoo 09:30-17:30 (Summer: Mar 16 – Oct 15) / 09:30-17:00 (Winter: Oct 16 – Mar 15)
* Botanical Garden 09:00-18:00 (Apr-Oct) / 09:00-17:00 (Nov-Mar) (Exception: Open only from 13:00 on Mondays)
☞ Admission: Free
More Info
☞ Directions (Seoul Station → Konkuk Univ. Station)
By Subway (Total travel time: approx. 25 min.):
From Seoul Station (Seoul Subway Line 1, 4, Gyeongui, AREX), get on board in Seoul Subway Line 4 and get off at Dongdaemun History & Culture Park Station (Seoul Subway Line 2, 4, 5) → Transfer to Subway Line 2 and get off Konkuk Univ. Station (Seoul Subway Line 2)
☞ Seoul Metro: www.seoulmetro.co.kr (Korean, English, Japanese, Chinese)
☞ 1330 Korea Travel Hotline: +82-2-1330 (Korean, English, Japanese, Chinese)