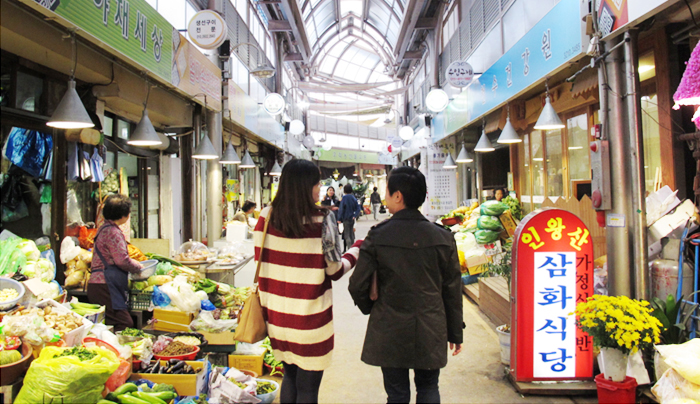 Photo: Tongin Market
A great attraction for international tourists to visit when in Korea is the nation's many markets. Markets not only have a long history, they are a wonderful public space for seeing the daily lives of Koreans. Formed in areas where people tend to gather, markets can be found near palaces and other tourist attractions.
Below are four of Seoul's foremost markets, which remain largely beneath the tourism radar but are welcoming of all visitors. They range from a cozy Tongin Market and Garak's sprawling markets, to Pungmul's trove of vintage treasures and Gyeongdong's fragrant oriental medicinal herbs. Step into Korea's past, come face-to-face with friendly locals, and shop for unconventional souvenirs that will add a unique touch to your trip!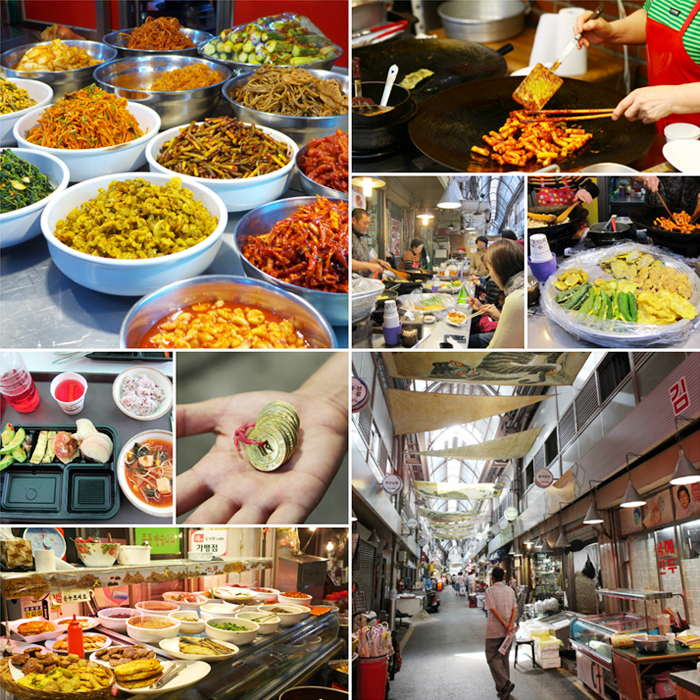 Photo: Daily snapshots in Tongin Market
Tongin Market is located in a long, narrow alley just around the corner from Seoul's Gyeongbokgung Palace. Situated in a residential district with a full view of the mountains, the market's history dates back to 1941. In a bid to reinforce the market's sustainability, the market now offers hands-on experience programs and a unique lunch set to attract and welcome visitors. The market is comparatively smaller than others in Seoul, making it more accessible, easy to navigate, and ideal for wandering around. The market's vendors are also friendly to both local and foreign visitors.
Tongin's main attraction is perhaps its fresh and affordable Dosirak (lunch box) café. The lunch program allows customers to select and sample fresh Korean banchan (side dishes) from a variety of participating stalls in exchange for yeopjeon (brass coins). Other options include a variety of fresh fruits and vegetables, jjigae (stew), tteok (rice cake), and snacks. Those with a cast-iron stomach should also try Tongin's famous fried tteokbokki (stir-fried rice cake), which was featured on the popular Korean variety show "Running Man."
Tongin Market
Address: 18, Jahamun-ro 15-gil, Jongno-gu, Seoul
Directions: Gyeongbokgung Station (Seoul Subway Line 3), Exit 2. Wallk approx. 10min.
Operating hours: Monday-Friday 09:00-18:00 / Saturday 09:00-13:00 / Closed Sundays & national holidays
※ Dosirak Café program is available Tuesday-Sunday (11:00-16:00) / Closed Mondays & third Sunday of every month
Fare (Dosirak Café): 5,000 won per person (Purchase yeopjeon coins at the Customer
Website: tonginmarket.co.kr (Korean, English, Japanese, Chinese)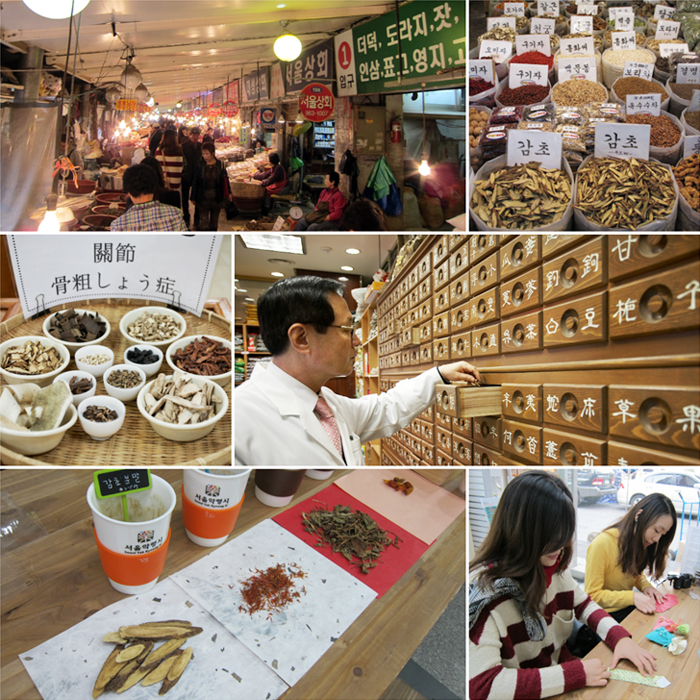 Photo: Gyeongdong Market scenes
Originally a market for selling agricultural wares from Gyeonggi-do and Gangwon-do, Gyeongdong has developed into the biggest eastern medicinal herbs market in the country, providing an estimated 70% of the country's medicinal herbs.
Moments after entering Gyeongdong Market's seemingly ordinary range of groceries and foodstuffs, the market reveals its roots in traditional herbal medicine, with the scent of fragrant ginseng and medicinal herbs that fill the air. In addition to the ordinary aspects of this traditional market, Gyeongdong also has rows of traditional pharmacies, some even housed in traditional Korean hanok with traditional wooden medicine cabinets.
One of the market's big draws for visitors is its "Korean Traditional Medicine Experience Hall For Foreigners," administered by KTO, which also offers in-depth hands-on programs. The experience is offered in English, Chinese and Japanese, and visitors can try making oriental herb soap, incense bags, herbal foot baths, and rice cakes, receive a general checkup and acupuncture from a doctor, all of which is free of charge.
Address: 147, Wangsan-ro, Dongdaemun-gu, Seoul
Directions: Jegi-dong Station (Seoul Subway Line 1), Exit 2. Walk approx. 5min.
Operating hours: Oriental Medicine Market Monday-Saturday 09:00-19:00 / Closed Sundays & national holidays
Tel: +82-2-967-8721 (Korean)
Website: kyungdongmart.com (Korean only)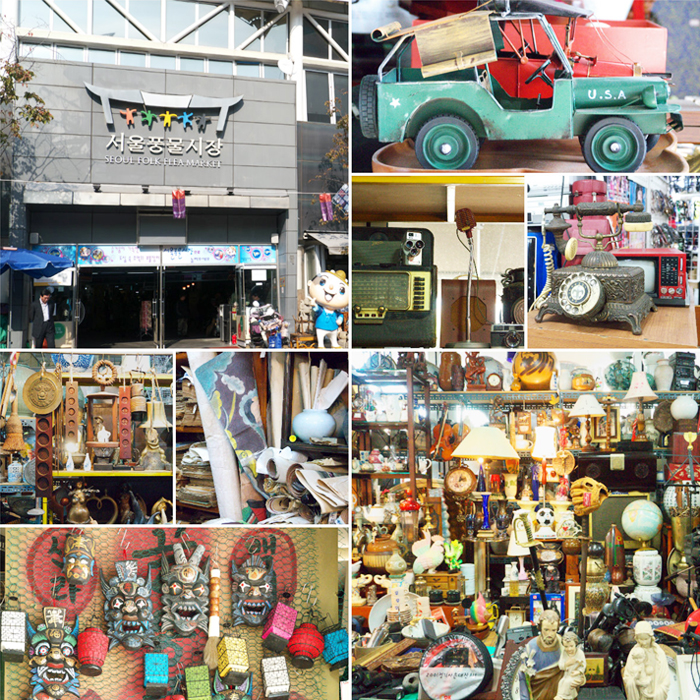 Photo: Folkcrafts and souvenires at Seoul Folk Flea Market
Housed in a two-story building along Cheonggyecheon Stream, the Seoul Folk Flea Market offers folk souvenirs, regional specialties, clothing, food, and miscellaneous items. The Seoul Folk Flea Market originated from the flea market in the Hwanghak-dong area, where many street shops and vendors gathered around Cheonggyecheon Steam Stream before it was restored and modernized into its current state.
There are countless shops selling everything from everyday apparel to vintage items. The market is well organized into several sections: food court, sundry goods, clothes, antiques, and regional goods. Here, nothing is considered trash. There's an endless expanse of both art and antique items: old and new, both recognizable and mysterious. There's something here for everyone from the serious collector to the casual shopper. The rare and unique knick knacks also make lovely souvenires to fondly remember one's travels upon returning home.
Address: 21, Cheonho-daero 4-gil, Dongdaemun-gu, Seoul
Directions: Sinseol-dong Station (Seoul Subway Line 1, 2), Exit 9. Walk approx. 5min.
☞ Operating hours: Market 10:00-19:00 / Food court 10:00-22:00 (May vary by season) / Closed second and fourth Tuesday of every month
Closed: the second & fourth Tuesday of every month
Tel: +82-2-2133-5551 (Korean only)
Website: pungmul.seoul.go.kr (Korean only)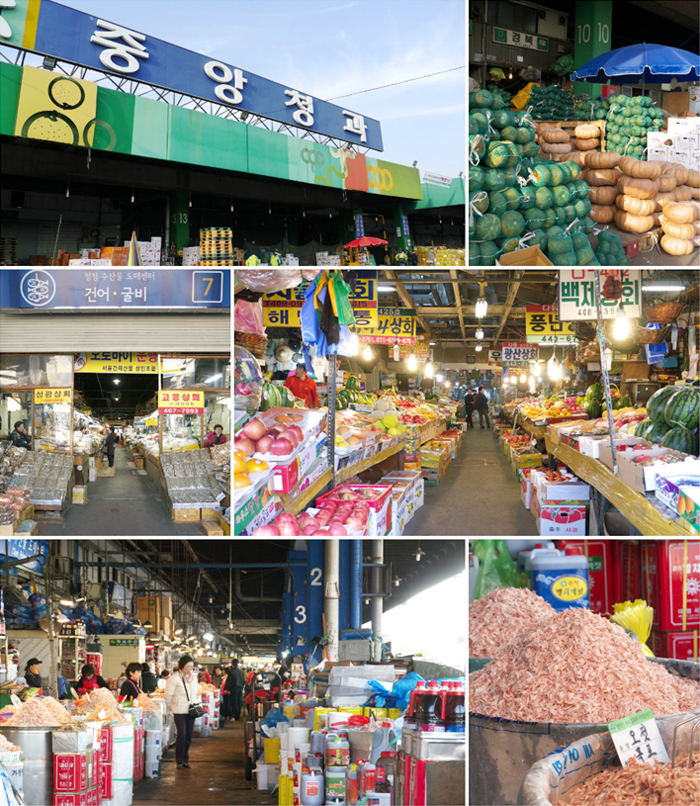 Photo: Wholesale agricultural & marine shops at Garak Market
Garak Market is a huge 500,000㎡ compound made up of separate buildings for fruits, vegetables, seafood, dried food, and meat. Run by the Seoul Agro-Fisheries and Food Corporation, the market is where agricultural and marine products from around the nation are gathered for distribution and standard pricing. Throughout the night, the market receives lines of freight trucks filled with fresh produce.
Although the market is primarily a wholesale market, merchants also sell in retail quantities. Walking around the compound, one can see sacks of potatoes, boxes of fruits, and plastic barrels overflowing with side dishes. Even if you're not in the market to buy anything, simply experiencing the sights and sounds can be equally remarkable.
Address: 932, Yangjae-daero, Songpa-gu, Seoul
Directions: Garak Market Station (Seoul Subway Line 3, 8), Exit 1. Walk approx. 5-6min.
Or, Garak Market Station (Seoul Subway Line 3 & 8), Exit 1 or 8. The market will be on your left.
Operating hours: 00:00-24:00 / Open all year round
※ Hours may vary by building
More Info
☞ Visit Seoul website: visitseoul.net (Korean, English, Japanese, Chinese)
☞ 1330 Korea Travel Hotline: +82-2-1330 (Korean, English, Japanese, Chinese)