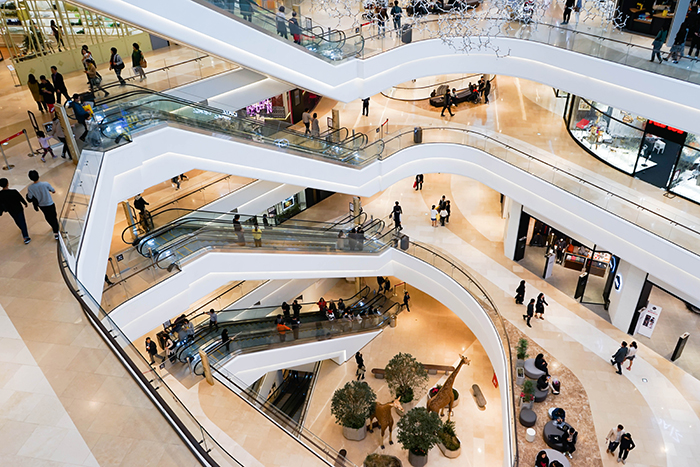 Photo: Starfield Hanam interior

Korea's newest hot place is Starfield Hanam, recently opened September 9 of this year. Even before opening, Starfield Hanam was the talk of the town; with a size of 70 soccer fields, over 3 million people visited in its first month of operation.
A multitude of shops are gathered in one building, making it easy to think of Starfield Hanam as just another shopping complex or mega-mall, but it is better called a "Shopping Theme Park." Much like an amusement park that offers many fun rides for visitors to chose among, Starfield Hanam provides a shopping experience to match the unique tastes of all visitors. Inside the mall, visitors will find not only shopping spaces, but also fun and unique areas. With all the options, you are sure to find something that pleases you.
(TIP) Check the Floor Guide when exploring!

Because of its large size, Starfield Hanam has information desks and floor guides available in Korean and English throughout the complex. The guides list the names and locations of shops from the basement level 1 through the fourth floor. With this map in hand, it's easy to find what you're looking for.


Shopping Areas in Starfield Hanam
Shopping for Men, Electro Mart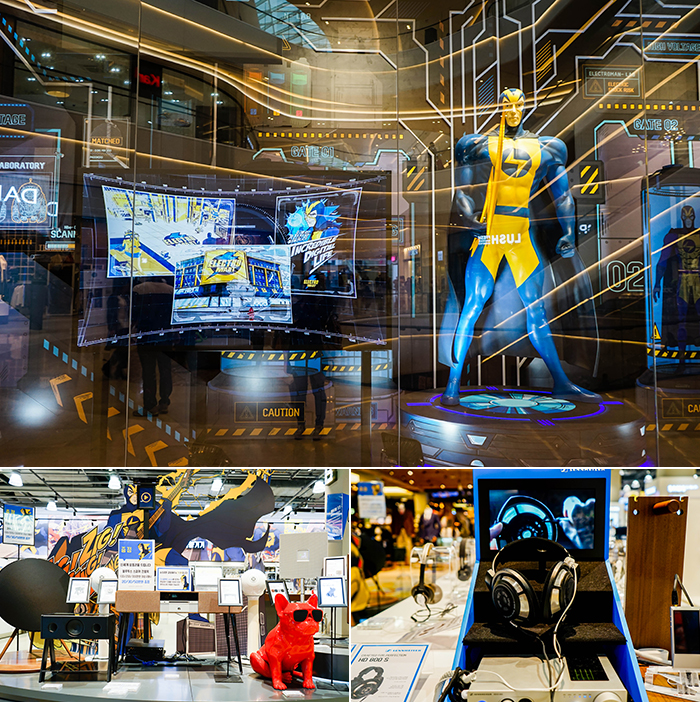 Photo: Electro Mart's mascot, Electro Man (top) / Various electronic goods (bottom)
Electro Mart exudes a male aura, from the entrance to the items on sale. Like a playground for men, the mart even has a super-hero mascot. A lightning bolt emblazoned on his chest, Electro Man is the 'god of electricity' and embodies all the electronic goods in the store. Electro Mart sells everything from smart phones to speakers to the newest digital devices. Be sure to keep an eye out for Electro Man throughout the store while experiencing all the gadgets first-hand.

☞ Location: 1F

☞ Operating hours: 10:00-22:00
Shopping for Women, Maison Ticia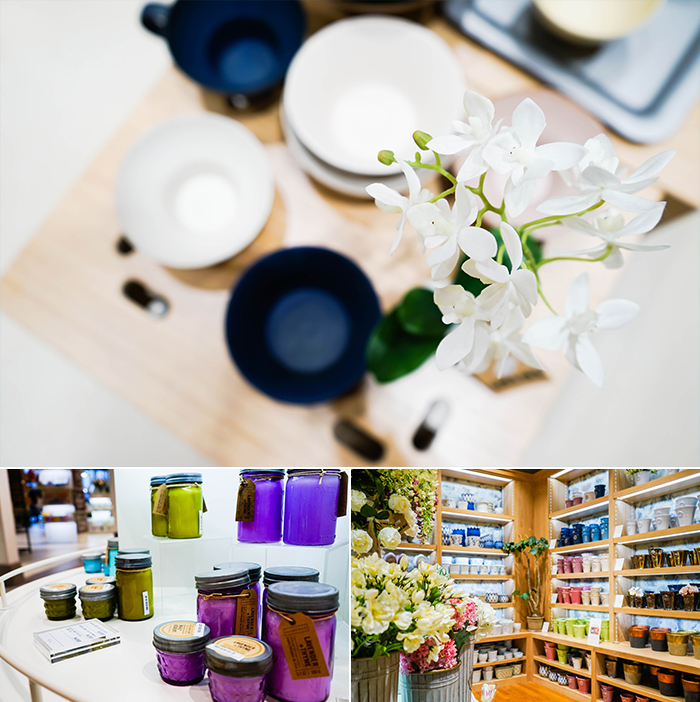 Photo: Dynamic lifestyle goods and kitchenware available at Maison Ticia

Maison Ticia is a lifestyle and home shop for women. The shop name comes from a combination of the French word "maison" meaning home, and "leticia," Latin for pleasure. The shop is full of cute and sweet items that are sure to catch the eye of females with just a single glance. Maison Ticia mostly sells household items, such as kitchenware, lifestyle goods, and interior decorating items. The shop is unique for having a space available for shoppers to personally try out the items.

☞ Location: 3F

☞ Operating hours: 10:00-22:00
Shopping for Children, Toy Kingdom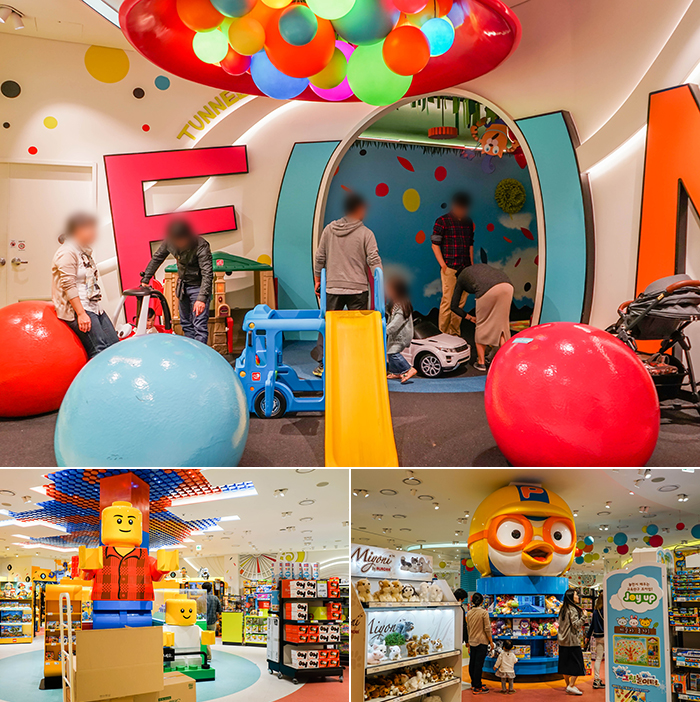 Photo: Experience zone with slides and children's cars (top) / Large characters decorate Toy Kingdom (bottom)

Families with young children will love visiting Toy Kingdom. Bright, colorful balloons decorate the entryway, ushering visitors into a new, fantastic world. This place is filled with grand characters and statues from 1.5meter-tall pinwheels to lego men to Pororo! Toy Kingdom is great for taking souvenir photos with the characters, and children will love to play with the many toys in this special place just for them.
☞ Location: 3F

☞ Operating hours: 10:00-22:00
Experience Areas at Starfield Hanam
Relax and Play in the Water, Aquafield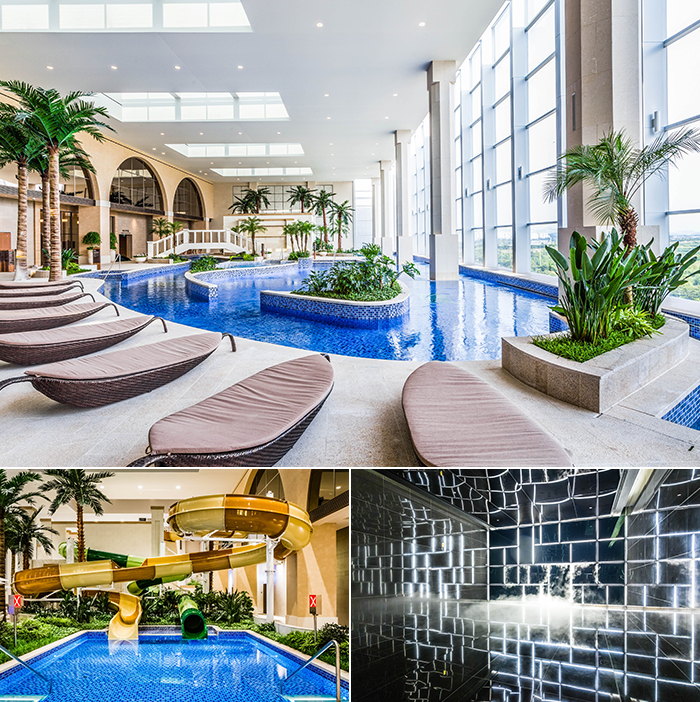 Photo: Views inside the water park (top, bottom left)
Cloud Room in the spa (bottom right) (Credit: Aquafield operations team)

The high-end interior of Aquafield is sure to catch one's attention. A healing space to recharge your body and soul, the facility is divided into a large water park and a hot spa. The water park features a variety of pools to entertain family members of all ages. The spa is decorated in eight themed areas, each area pleasing to the eye and ideal for spending time in idle comfort. In particular, popular areas include the Media Art Room, featuring constellations and the aurora borealis dancing to the sounds of music, and the Cloud Room, designed to feel as if you are floating in the clouds.
☞ Location: 3F, 4F
※ Ticket counter 3F, Aquafield facilities 4F
☞ Operating hours: Water park 10:00-19:00 / Spa 06:00-24:00
※ Base admission limited to six hours, with an additional 5,000 won charged for each additional hour.
※ Outdoor water park currently closed until December (planned)
☞ Admission
Water park: Adults 28,000 won, Children 23,000 won
Spa: Weekends – Adults 22,000 won, Children 18,000 won / Weekdays – Adults 20,000 won, Children 16,000 won
※ Adults ages 13 and older, Children ages 3-12
※ Pay for additional facilities (F&B, massage chair, etc.) after use at the payment counter on 4F.
☞ Website: www.aquafield-ssg.co.kr (Korean only)
One-of-a-kind Experience, Hyundai Motorstudio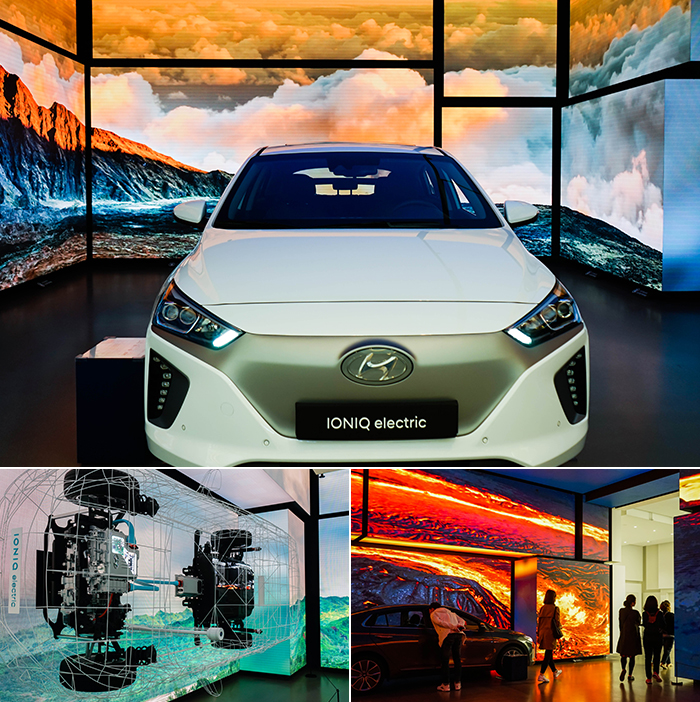 Photo: IONIQ Electric car, theme of Hyundai Motorstudio

In simple terms, Hyundai Motorstudio is not a space to sell cars, but rather to allow visitors to experience Hyundai cars first-hand. The entire exhibition space is decorated with images and information about Hyundai's future car IONIQ, the company's first hybrid vehicle. The walls display a video with IONIQ's vision, "The Freedom of Movement," and visitors can also view the interior of the car.

☞ Location: 1F

☞ Operating hours: 10:00-22:00
Get Active, Sports Monster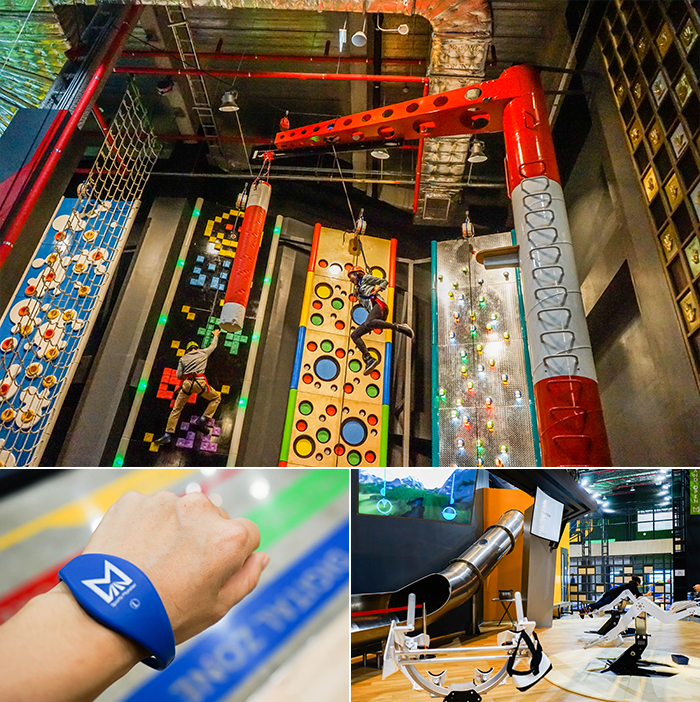 Photo: Adventure zone experiences (top) / Monster Band (bottom left) / Sports Monster interior (bottom right)

Sports Monster is a unique space blending sports and play, with a personal "monster band" to record your movements while playing. There are over 30 differing activities to enjoy here, with the sports being divided into four categories of Basic Zone, Exciting Zone, Adventure Zone, and Digital Zone. The most popular area is the Adventure Zone's free-fall experience! It's truly exciting to leap from the top of the 8.5m platform for a wild thrill ride through the open air.

☞ Location: 4F, rooftop
☞ Operating hours: 10:00-22:00 (some areas inside & on rooftop)
☞ Admission (base fare): Adults 23,000 won / Teenagers & Children 18,000 won
※ Base fare limited to two hours, with an additional 1,000 won charged for each additional 10 minutes.
☞ Website: www.sportsmonster.co.kr (Korean only)
Food Zones at Starfield Hanam
Gathering of Restaurants, Gourmet Street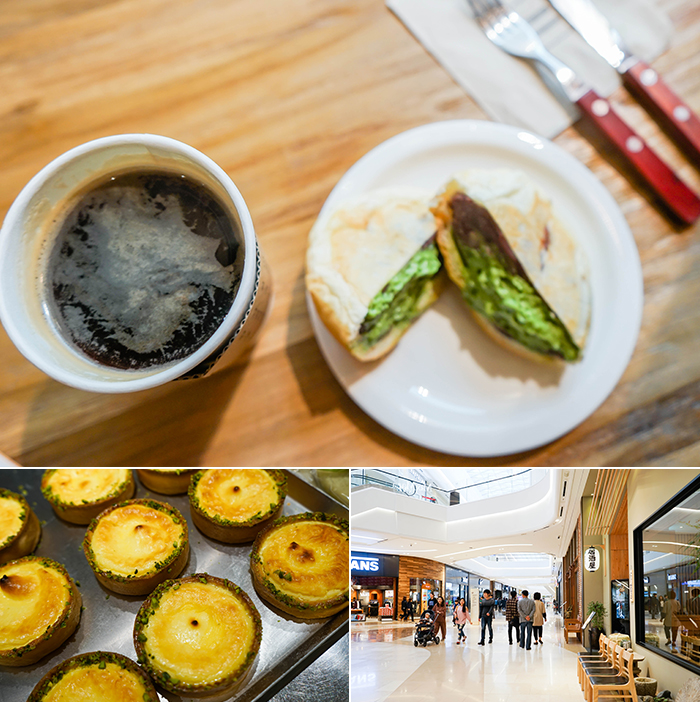 Photo: Delicious food and coffee at Gourmet Street

Gourmet Street is true to its name, featuring a large gathering of famous Korean restaurants along its full length of 200 meters. The prices here are a bit higher than those of the general food court on the third floor, but it is worth it for the fancy ambience and delicious food. The cafés here are also artfully decorated and great for relaxing over a cup of hot coffee or tea.

Take in the Scenery while Enjoying your Meal, EATOPIA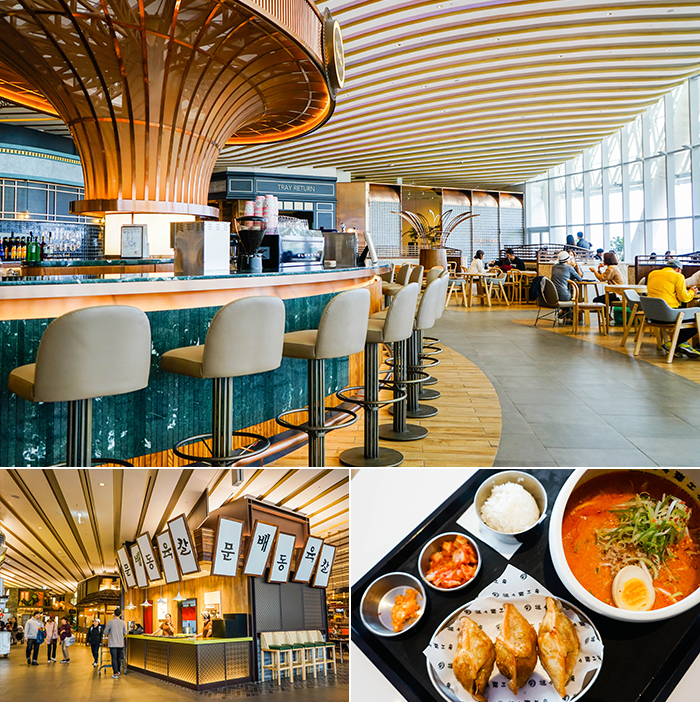 Photo: EATOPIA interior (top, bottom left) / Dandan noodles (bottom right)

The general foot court of Starfield Hanam is EATOPIA, located on the third floor. Visitors can purchase food a la carte from traditional restaurants and new-style restaurants to create their perfect meal. While eating, diners will be treated to views of the Hangang River flowing by outside the floor-to-ceiling glass windows lining the walls like an observatory.

☞ Location: Gourmet Street 1F / EATOPIA 3F
☞ Operating hours: Gourmet Street 10:00-24:00 / EATOPIA 10:00-22:00
※ Hours of restaurants in Gourmet Street may vary
More Info
☞ Address: 750, Misa-daero, Hanam-si, Gyeonggi-do
☞ Directions
• Jamsil Station (Seoul Subway Line 2), Exit 7 → Walk approx. 1 min. to Jamsil Station Bus Stop → Take Bus No. 9302 to Starfield Hanam Bus Stop → Walk approx. 1 min. to Starfield Hanam.
• Paldang Station (Gyeongui-Jungang Line), Exit 1 → Walk approx. 1 min. to Paldang Station Bus Stop → Take Maeul Bus No. 50 to Starfield Hanam Bus Stop → Walk approx. 2 min. to Starfield Hanam.
☞ Operating hours: 10:00-22:00
※ Hours may vary by store
☞ Website: www.starfield.co.kr (Korean, English, Japanese, Chinese)
☞ 1330 Korea Travel Hotline: +82-2-1330 (Korean, English, Japanese, Chinese)